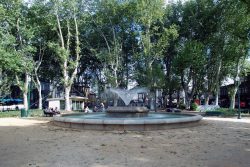 The fountain that is at the Jardim do Marquês already has a long history.  It was placed here in 2006, after the construction work of the garden, but it literally lit up the Praça D. João I for decades.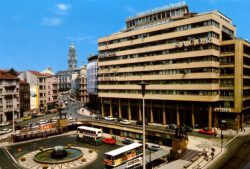 The Praça D. João I was only inaugurated in the 40s and with a very modern aura thanks to very tall buildings on its side that are still there to this day. At the time of its construction, one of them was the tallest building in the country. This new square, which served as a connection between the Rua Passos Manuel and the Avenida dos Aliados, built in a place where other buildings once existed, would come to receive outstanding decorative elements: the bronze sculptures "Os Corcéis" (The horses), which are still there, and the fonte luminosa, which has since moved location to the Marquês, despite having lost some of its original elements.
The fountain was placed at the center of the square and, besides having the compass rose drawn on the bottom; it would also light up during the night. It was located in a small roundabout with Portuguese pavement and bushes. At the time, cars and buses would circle around the square, which was surrounded by coffee shops and other commercial establishments that are nowadays entrances to the car park. The imposing fountain was ordered by the owner of an important real estate agency.