Literary Tourism offers cultural capital because it gives readers the possibility to visit and discover places that are related, inspired, and places that have marked the lives of writers and their assets.
The difficulty in discovering these places shows that there is a lot of work to do in the preservation and dissemination of this heritage. Some of the houses mentioned have an information board, but they are not considered cultural heritage, nor is there a survey, of all the houses that exist.
This type of tourism establishes strong relationships between tourists and their destinations, creative, affective and social relationships.
Porto can thus stand out and differentiate itself as a destination rich in cultural heritage, with history and renowned writers.
ALMEIDA GARRET
He was born in 1799 in Porto, at Rua Dr. Barbosa de Castro near Jardins da Cordoaria, in house no. 37-41, and lived there until the age of five, later moving to Vila Nova de Gaia.
In the middle of the first floor of the house, with 18th century characteristics, in an oval medallion in plaster, placed by the city hall in 1864, an inscription honors the memory of the author of "Viagens na Minha Terra".
There are writer's marks all over the city:
– Church of Santo Ildefonso, where Garrett was baptized in 1799;
– building of Colégio de S. Lourenço / Igreja dos Grilos na Sé, and improvised military regiment, where he took refuge during the siege of Porto, in 1832, and where he started the novel "O Arco de Sant 'Ana: Porto chronicle";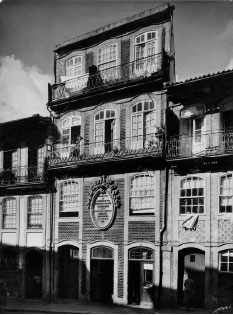 – Almeida Garret Square next to S. Bento station;
– He was one of the responsible for introducing the heart of D. Pedro in the coat of arms of the city of Porto;
– grave in his honor at the Lapa cemetery, although his remains are found in the Jerónimos Monastery, in Lisbon;
– since 1954, on the 1st centenary of his death, a bronze statue of him has a prominent place in front of the city hall of porto,
– in 2001, when Porto was European Capital of Culture, the Municipal Library in the gardens of the Palácio de Cristal was named Almeida Garret.
He is described as a petulant and vain dandy.

(Visited 283 times, 1 visits today)