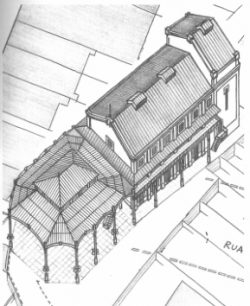 Few remember this movie theater, built at the beginning of the 20th century and demolished in the late 1940s to give way to the current Rua de Ceuta. The Apolo Terrasse came at a time when the cinema was gaining popularity.
At first, the films started out by being projected in shacks or in arge stores in the city, but, as the public's interest increased and the film production
diversified, specific spaces for film viewing were built. Most of these places of entertainment are now just memories. One of them was the Apolo Terrasse, which was built in 1912. It was located where Rua de Ceuta is today and its main access was through Rua José Falcão. It had two more
entrances: one on the ground floor of a house in Rua de Santa Teresa and another through the middle of backyards that descended to Rua da Picaria. Despite its discreet location and decorative simplicity, the building stood out for its large, imposing iron structure, which served as a vestibule.
The Apolo Terrasse was also built so that it could be used for other types of shows and sporting events.
On the other hand, the two floor construction, connected by two staircases and lateral balconies, brought great concern due to fire prevention.
The lighting, made by globe-shaped lamps, was another element of modernity in this space.
Source: O Tripeiro, 7ª Série, Ano XXXV, Número 1,
janeiro e fevereiro de 2016.

(Visited 224 times, 1 visits today)