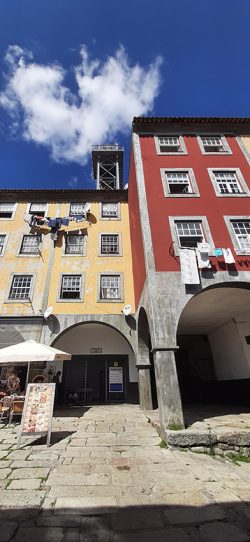 The Elevador da Ribeira or Lada lift connects the Ribeira do Porto to the half slope of Barredo.
This vertical lift with a walkway, is a free access urban public transport located in the city of Porto.
To go up, go to number 66 in Largo dos Arcos da Ribeira, next to the D. Luis bridge.
The ride is fast and an excellent way to get to the upper part of the city, without having to face slopes and stairs.
It has a security guard on the lower level to safeguard its proper functioning.
Once on the upper level we have a great panoramic view of some bridges and the Gaia quay, as well as very different views of some parts of the river.
The Lada neighbourhood has undergone several alterations and works over the years.
This iron lift was part of this project, it was perfectly framed with its neighbour metallic bridge, and it was ready in 1993, but only in 95 it started working.