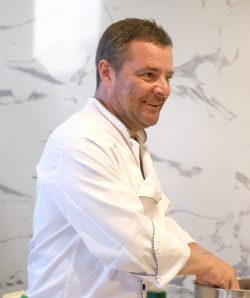 In this new year of 2019, celebrating 500 years of the first circumnavigation trip, I decided to present a fusion cuisine dish.
The dish I bring you in this edition is a mixture of loves. I live in Espinho, land of excellent fish, from Robalo to Sardines, Carapau, etc. The fresh Robalo, captured in waters like the Portuguese, has the exact fat, the perfect texture and an unmistakable flavor.
To the magnificent fish, we add saffron. Saffron is extracted from the flower stigmas of Crocus sativus and was brought to Europe by the Portuguese. It is now part of the so-called and renowned Mediterranean Cuisine.
The Fricassé sauce integrates lemon and yolks, precisely used to thicken the broth where the fish is made.
Robalo de Fricassé
4 slices of Robalo
1 chopped onion
2 cloves of garlic, minced
Olive oil, as needed
Salt
Black pepper
50 ml of white wine
250 ml of water
1 egg yolk
Juice of 1 lemon
1 teaspoon of Indian saffron
Chopped parsley
In a pan, brown the onion and garlic, chopped in olive oil. Arrange the slices of Robalo on onion and season with salt and pepper. Add white wine and sauté for a few minutes. Add the water, stir the seasoning and cover the pan. Season for about fifteen minutes, or until the Robalo is cooked.
In a bowl, mix the egg yolks with the lemon juice and the saffron. Once the Robalo is cooked, remove it from the pan and add the egg and lemon mixture to the sauce. Stir well, put the Robalo back in the pan and sprinkle with chopped parsley.
Serve with mashed or baked potatoes.