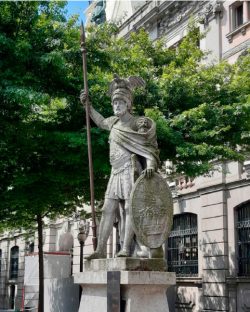 In the very central Praça da Liberdade, more precisely at the confluence with Rua Dr. Artur de Magalhães Basto next to the Banco de Portugal Building, a statue is installed, nowadays seen drawn and photographed not only by the thousands of people who visit us, but equally by so many locals in their routine passages, and who represents a warrior.
It has a number of peculiarities that in itself arouse some interest.
From the very beginning, the fact that it is possibly the one that most 'strolled' through the city. It is now and since 2013 in the place closest to the point where it was designed, which was the top of the triangular pediment of the façade of the palace that existed at the north top of the current Praça da Liberdade where the City Hall was installed for about one hundred years until its demolition in 1916 for the opening of the then Avenida das Nações Aliadas, now Avenida dos Aliados. At that time it was dismounted and placed next to the Episcopal Palace and later on next to the Medieval Wall. Later it was removed again, this time to the Gardens of the Palácio de Cristal until the architect Fernando Távora, in the renovation work of Casa dos 24, installed it in Terreiro da Sé until finally being deposited in the place where it is today.
Another curious aspect is that we know that it was idealized and that is why it was often attributed to the Sculptor João de Sousa Alão but not made by him. He commissioned it from Mestre Pedreiro João Silva, who was actually its author.
The initial idea was to adorn that palace that until then had been a private residence, with symbols that identified it with the new functions of the Headquarters of the City Hall. And so this warrior was conceived with his weapons and a helmet topped by a dragon, as well as a shield where, in addition to the inscription Portus Cale, the Weapons of the City itself appear. For all these reasons, this work received the name of the city itself that symbolizes: "Porto".
One last reference has to do with the costs and payment contract, because according to the documents of the municipal accounts of that year of 1818, it should be settled in 3 times the amount of… 343 $ 20. If we do not count on the obvious updates, this value corresponds to about € 1.60…

(Visited 293 times, 1 visits today)