It was designed by engineer Theophile Seyrig and inaugurated in October 1877.
It had 150 workers from Eiffel Constructions Métalliques, and used 1,600,000 kg of iron.
It was the first construction to take into account the effects of the region's winds, and despite the complexity of the bridge it did not take even 2 years to build.
The dimensions of the width of the river and the surrounding escarpments, required the construction of the largest iron arch in the world, with a span of 160m, and a deck of 352m, 61m away from the average water level of the river. It was a construction at the limit of the possibilities of metallic construction. At the time, this bridge was an engineering feat that dazzled the Portuguese and foreigners alike.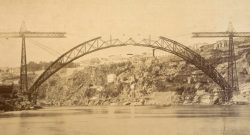 It marked the arrival of the railway to the city of Porto, and the connection between Porto and the south at the railway level was its function. It made it possible to complete the railway connection between Porto and Lisbon which, at the time, ended at Devesas station in Vila Nova de Gaia. It had a profound impact on the economy of the region, as the city of Porto became the hub of a set of important railway lines and allowed the reordering of the urban fabric according to the location of the stations.
The inauguration party on 4 November 1877 was a great success, presided over by King Luís I and Queen Maria Pia, after whom it was named.
The crowds came to watch the memorable spectacle, filling the surroundings of the "work of art", waving handkerchiefs as the first train crossed the bridge, with 24 carriages and around 1200 people on board.
The safety of the bridge has been amply proven with the passage of trains for over 100 years.
It is classified as a national monument and is the only Portuguese monument on the American Society of Engineering's list of great engineering works.
With the appearance of the new São João Bridge, the D Maria Pia bridge was decommissioned on 1 June 1991, and since that day it has been patiently awaiting the future, with the restoration of this work of art a priority.