If we ask different people what Christmas is like in Porto we will get different answers. They will say that it is the beauty of the Aliados Christmas tree, the color of the lights downtown, the frenzy of Santa Catarina, the Bolo Rei from different traditional pastries or the cod of a certain grocery store, which has been conceptualized by years of infallible service to the palate of Porto. All this is true, and there would be more to add. However, all this is part of something infinitely more important, all this underlines the joy of what Christmas really is, but it does not exhaust or overshadow it. Christmas is the birth of Christ, the proclamation of redemption, the celebration of God's supreme trust in His people.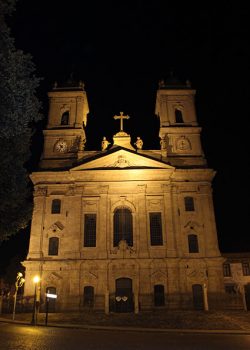 Living, or being in Porto, on this date makes it mandatory to witness to the way the city lives this significant moment of its spirituality. I venture to say that, at least once in my life, so as not to steal the limelight of other parishes, it is mandatory to participate in the extraordinary Missa do Galo in Lapa. Christmas is also magic, and magic is not incompatible with solemnity. The experience of the Missa do Golo in Lapa is just that, magical and solemn. Here, the spirit is awakened through the different senses in a sublime way. As the eyes marvel at the artistic richness of the Church and with the aesthetic rigor of the celebration, the scent of traditional incense reinforces the intensity of the moment and the music of extraordinary execution and delicate choice fills the time between words that give meaning to everything else. It is a unique experience!
The very special care put into this Mass, the strict observance of a tradition that is strengthened with each passing year, has had the power to attract more and more people, giving more meaning to the Christmas of each one who chooses to join this celebration. One can say that there is pomp, rigor, staging even, but without ever losing sight of the essential. Everyone gives their best to receive the Christ who has come. I would say that it is the gold, the incense and the myrrh that Porto has to offer.
I would dare say that this is not an exclusive moment of believers; it would be terribly selfish. This is also a time for those who do not believe, but like to feed their spirit with the beauty of creativity and the sublime power of art in different forms, architecture, painting, sculpture, music, the word. Believers and non-believers, for different reasons, some of them communal, leave from there full of soul and with the clear notion of the privilege of participation in such a special moment. And Christmas happens.