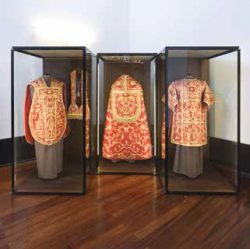 The journey through the Casa da Irmandade (1754-1758), where the Museum is located, provides a return to the past as you get to explore spaces that once were private and destined for the daily life of the Brotherhood of Clerics.
Walking through the Casa do Despacho, the Sala do Cofre, the Archives, and the old infirmary, one can see that the Museum has a collection of cultural assets of considerable artistic value from the 13th to the 20th century, which spreads through its collections of sculpture, painting, furniture and jewellery. These goods are messengers of a historical and cultural patrimony, whose function was lost throughout time but gave way to the creation of the museum.
The infirmary of the Brotherhood of Clerics, which operated until the end of the 19th century and dedicated to the treatment of sick clerics, has been converted into an exhibition space and currently houses the Christus collection. This exhibition, conceived from the donation of a collection by a private collector, reveals the passion for collecting and tells a story complemented by objects, once of devotion, considered today cultural legacies of interest. They are important pieces of sculpture, painting and jewellery making that enhance the encounter of art with faith.
The exhibition, distributed in three rooms – Núcleo da Paixão, Viagem das Formas e Imagens de Cristo – invites you to travel through time and space, through image and devotion.
The Museum of the Irmandade dos Clérigos, is part of the Portuguese Museum Network, since August 28, 2018.
(Visited 692 times, 1 visits today)