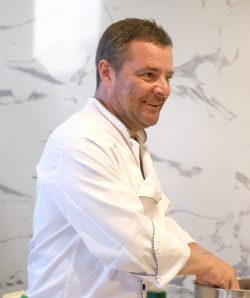 And, since it's almost Christmas…
It's Christmas and the codfish reigns on pretty much every table. But not all! The tradition of octopus at supper has many resilient fans and an increasing number of adherents, especially in the north and border regions.
In Portugal, the octopus on the Christmas table brings the smells of the past to the grandparents and is an appeal to our gastronomic memory. It was the way our ancestors dealt with the remoteness of the sea. It wasn't easy to get fresh products from the coast to the interior and, as the Church imposed the fasting of meat, dry octopus was always a solution, especially in the North, due to the proximity to Galicia, where the cephalopod always enjoyed an enormous reputation among our people.
Gone are the days when dry octopus was smuggled into our country, because of the protectionist measures on codfish fishing and fleets. Today, it is replaced by fresh octupus, but not with the same flavor.
Arroz de Polvo (Octopus Rice)
Ingredients
1 octopus (2 kg, aprox.)
1 cup of long-grain rice
3 tablespoons of olive oil
2 onions
3 garlic cloves
3 bay leaves
1 bouquet of parsley
Salt and pepper
2 cups of the water of baking the octopus
Preparation
Cook the octopus together with the onion in salt water. After 40 or 50 minutes, it should be cooked. When the onion is cooked, the octopus is usually also cooked. Do not forget to "scare" octopus (stick it with a fork by the head, remove it from the water and dip it again several times).
In the meantime, peel the onion and the garlic and chop them; choose and wash the parsley.
. In a saucepan, pour the olive oil, the onion, the garlic and the pepper. Braise without pulling too much.
Add the rice and wrap it in the braised until it is translucent. Add the boiling water from the octopus, while still boiling. Bake, cover, simmer for 10 to 12 minutes or until dry. In some regions, it is usually placed in a baking dish and taken to an oven to finish drying it. In the region of Trás-os-Montes, chouriço is placed in slices at the time of the braised.
(Visited 715 times, 1 visits today)