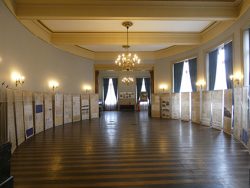 Clube Fenianos Portuenses was founded on March 25, 1904, in the Batalha Square. In 1935, it was moved to its current location, in the Aliados Avenue, right next to the Porto City Hall.
The club was recognized as Commander of the Military Order of Christ for the services rendered throughout its 111 years of existence to that moment and with the Gold Medal of Porto as well, reinforcing its motto "Pelo Porto" (For Porto).
Around 1903, four of its founders, Porto citizens and future Fenianos, sought to obtain the necessary knowledge for the organization of a Carnival-like corso with the exuberance of the Carioca Carnival and the aesthetic beauty of the one in Venice, having made a trip to Brazil with this goal.
Clube Carnavalesco Fenianos Portuenses was born from this collaboration, later renamed Clube Fenianos Portuenses. The main goal was to give the city a Carnival at the level of its artistic sensibility.
As a note of curiosity, the floor of the Salão Nobre (Noble Room) also brings with it the "Brazil effect", since all of it is of pau-cetim of light tone and macacaúba.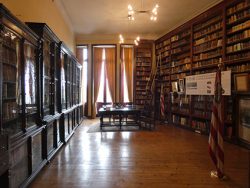 The history, patrimony, memories and civic and cultural intervention of Fenianos in Porto became entrenched in the city. The club was cherished by its populations, erudite, notable and anonymous, becoming a memorable tradition of Porto.
Its centenary and noble history, its gold books and the tombstones and pictures, that internally cover its old walls, register the presence of some of the most important living forces of the city, industry and commerce, great names of writers like Aquilino Ribeiro, Jorge de Sena, José Régio, of playwrights like Pirandello, of plastic artists, photographers and renowned painters such as Guedes de Oliveira and Amadeu de Sousa Cardoso, of folklorists and musicologists such as Armando Leça, of lectures with the historian of the city of Artur de Magalhães Basto and many, many other national and international figures.
Nowadays, the club continues to maintain an annual program of permanent socio-cultural activities, ranging from Music, Choral Singing and Instrumental to Illusionism, Theater, Dance, Billiards, Table Tennis and other ballroom games, not only for members, but for everyone who visits.

(Visited 1,095 times, 4 visits today)