I've been living in downtown Porto for 15 years, since the area was decadent and unsafe in the eyes of most… but not mine.
The downtown of this city has a strong character, with spaces enveloped by buildings with history and traditions. It is from here that I often go for walks, usually on foot or by public transport.
I know the city where I live. I've been discovering its corners over the years, from where the river meets the sea to the opposite side, where the city is still strongly marked by the industrial movement of other times.
There are not many public sites in the city that I have not visited, some of them quite vivid and filling my memory. However, Porto always surprises me. The sites are reborn and renewed, so I often feel like a tourist in my own city.
I will be a tourist when I go back to Quinta do Barão de Nova Sintra, after the recent requalification, which made it worthy of the name Jardins Românticos de Nova Sintra (Romantic Gardens of Nova Sintra), going back to stroll, see the old fountains and how the new sculpture of Julião Sarmento was integrated into the new garden.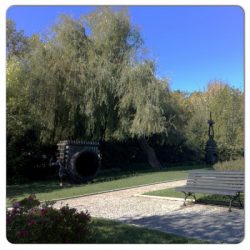 It will also be a pleasure to revisit Parque da Pasteleira and witness the transformation to which the old water reservoir is being subjected in order to welcome one of the sites of the City Museum. I am curious to know how the history of the City will be cared for inside the successive water cells of the old reservoir.
I usually start my days early. I try to keep this habit on weekends and get out early to enjoy the mornings. I avoid, therefore, the night and the atmosphere of bars. I prefer coffees and I like to read in the light of day. My favorite is Guarany, right on Avenida dos Aliados. With a lot of arabica, the taste of the coffee is prolonged.
As for restaurants, I have a particular relationship with Euskalduna Studio, in Rua de Santo Ildefonso. I never got to dine there. "We're sorry, but we don't have a table", "Sorry, but we're full"… are some of the answers I've often encountered. I'll keep trying…
To listen to music… naturally, Casa da Música.

(Visited 630 times, 1 visits today)