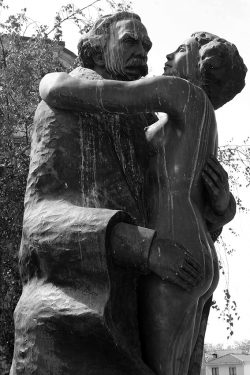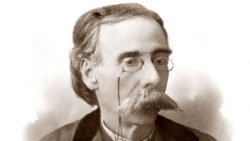 Although, he was born in Lisbon (1825) the illegitimate son of an aristocrat with his maid, at the age of 5 he came to live to the north – Vila Real, a mother orphan. At just 16 years old he married, and in 1843, 2 years later, he was a father. That same year he came to Porto to live alone, to Rua Escura, in the historic and picturesque district of the cathedral, to study medicine. Later he lived in the Hotel Paris, on Rua da Fábrica.
He was an elegant man, he was a renowned journalist and writer. In 1850, he enrolled at the Porto Seminary, where he studied theology and founded 2 religious newspapers.
Camilo's life in Porto was intense, controversial and bohemian and caused some scandals of a loving nature. He was celebrated for his passion for Ana Plácido and consequent imprisonment in the jail of Relação. From these events, his most famous work "The Love of Perdition" was born, which was immortalized by a statue of the two, which can be seen next to the jail where both were imprisoned.
In 1868, Camilo returned to Porto to live on Rua de Santa Catarina and Rua de S. Lázaro, after marrying Ana Plácido and with her founded and directed the city's Gazeta Literária.
The 1980s were very turbulent because they already saw very badly and maintained controversial relations with various masters of society. He was physically threatened several times and bought a revolver to defend himself. Ironically 7 years later he would use it to commit suicide after realizing that his blindness had no cure.
Camilo was buried in the cemetery of Lapa.
Until today, manuscripts of correspondence between Camilo, Ana Plácido and Freitas Fortuna and numerous Camillian objects are found in the Order of Lapa, such as the revolver with which he committed suicide, a silver snuff box, with the last note he used, the spyglass , the quill and the quill pen that served him recently, a book by Droz that Camilo began to translate in Cadeia da Relação, a conch that served Camilo as paperweights and his favorite inkwell.
(Visited 528 times, 1 visits today)