Although he once played football, it is not for scoring goals that makes him stand out in FC Porto. His vision for the club, the strategy he outlined and his strong leadership has made FC Porto one of the most prestigious clubs in the world.
Jorge Nuno Pinto da Costa is not only adored by the fans of his club, who sing songs with his name during the games and affectionately call him "The Pope". He is also the president with the most football titles won at the helm of a club: two Cups of Champions / Champions League, two Intercontinental Cups, two UEFA / Europa League Cups, one European Super Cup, 20 National Championships, 12 Portuguese Cups and 20 Super cups.
Since January 13, 2017 this year he is also the leader who has the longest tenure in the world superseding Santiago Bernabéu (former president of Real Madrid).
He was born in Cedofeita, Porto Downtown, on December 28, 1937, in a family of the upper bourgeoisie, more interested in culture than in sports. However, one of his uncles was already a feverish supporter of FC Porto and took him to see his first game of football in the Field of the Constituição. He would later become a club member and, after high school was no longer just a supporter, he engaged in the club management positions. He began to work in the section of roller hockey, went through boxing and other modalities.
His entry into the football department happened in 1976. In 1978 FC Porto became national champion, 19 years later. The club seemed to have begun a victorious cycle, but in 1980 Pinto da Costa disagreed with the management and moved away. In 1982 he applied for the first time to the leadership of the club and won with 95% of the votes. The rest is a success story.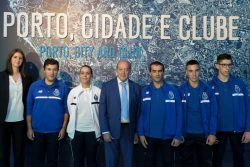 During the 80's, FC Porto gained national and international prestige; in the 90's, they won for the first time five consecutive national titles. In the first decade of the 21st century, there were more titles, including the UEFA Cup in 2003 and the Champions League and the Intercontinental Cup in 2004. The victories in football add to triumphs in other sports as well as important land leveling works: old Estádio das Antas, the construction of the Estádio do Dragão, Dragão Caixa and the FC Porto Museum.