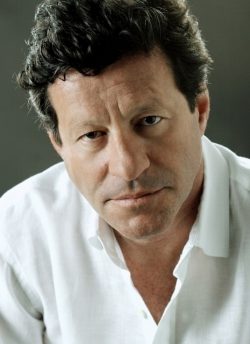 With a career spanning almost 40 years and more than 100 films and television series, Joaquim de Almeida is the most famous Portuguese actor in the world. He lives in the USA, where he worked for the most part of his career, but spends some periods of the year in Portugal.
He was born in Lisbon in March of 1957, being the sixth of eight children to a couple of pharmacists. His career, however, would turn out to be another and, still very young, chose to pursue the profession of actor. When the Conservatory of Lisbon was temporarily closed due to the upheaval caused by the revolution of April 25, he moved to Vienna to continue studying. At that time he landed a job as a gardener.
In 1976 he went to New York to study acting with Lee Strasberg, Nicholas Raye and Stella Adler, while working in a bar. His first major role came in "The Soldier" in 1981, but it was "Good Morning Babylon" that launched him into an international career that has not stopped since. He has worked with actors such as Harrison Ford, Gene Hackman, Antonio Banderas, Robert Rodriguez, Steven Soderbergh, Benicio del Toro or Kiefer Sutherland.
As a guest star on TV shows such as "CSI Miami" or "Bones" – where he often plays the role of a Latino villain – he has also appeared regularly in other series, such as "24", "Queen of the South" or "Training Day." Simultaneously, he continues to work with Portuguese filmmakers and actors, achieving box office successes and winning several awards and distinctions.
Best bar
On a more cultural level, I suggest Maus Hábitos. To go out late at night, any day of the week, Casa do Livro.
Best Restaurant
It is difficult to choose one. Thus, there are three:  Oficina of chef Marco Gomes or the LSD of the chef João Lupo and also the less known Paparico, perhaps the biggest secret to eat well in Porto
Romantic Site and Tour
Sail the Douro River on the boat that was built for the 60th birthday of Queen Elizabeth of England. Spend two nights in cozy rooms and enjoy first class service. September and October is the best time to do so.
Secret of the City
It is the view that one has from the space of the Cooperativa Árvore. How beautiful it is to see the Douro from there, spend the afternoon between a wine and a snack … Very close to the center and yet, still so unknown to the people of Porto.

(Visited 1,645 times, 1 visits today)