The Douro Academy is the perfect location for all your surfing and canoeing experiences.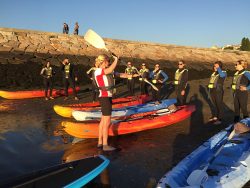 The academy is located in the Douro Marina, in Vila Nova de Gaia, in one of the most beautiful landscapes of the north region next to the Douro River and with the ocean in sight. The location is therefore ideal for those who practice or want to learn water sports. You can bring your boat or board or rent equipment from the academy.
Whether it is for training, learning or sightseeing, the Douro Academy has several experiences available that allow you to enjoy the scenery while playing sports. Surf, Stand Up Paddle (SUP), Surfski and Kayak Surf classes are available, as well as kayak and SUP tours, ideal for enjoying the beauty of the Douro's shores.
The prices and terms of participation are explained in detail on the website.
Information:
Douro Academy
Douro Marina
Rua da Praia, Vila Nova de Gaia
GPS: 41º 08' 35'' N | 8º 39' 02" W
Tel: + 351 914 322 630
E-mail: info@douroacademy.com