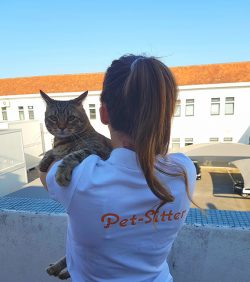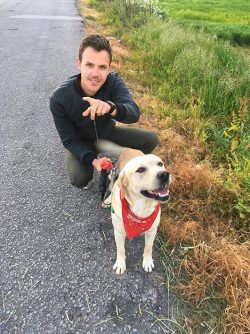 Laura (26) and Romain (29) came to Porto almost by chance. To their passion for the city they added their love for animals and created Animaux de Porto, a company that provides pet-sitting services.
The French couple, from Brest, Brittany, passed through Porto whilst on vacation in 2016, but it took some time before they decided to leave their jobs and live in France a year ago. Accompanied by their cats, Pipoune and Snookie, they got in the car and began a new life in Porto 17 hours later.
When one of the cats fell ill and realized that the treatment involved taking three pills a day, they questioned what anyone who had animals with similar problems would do. And so the idea came up to create a service for those who have animals and do not want to take them out of their environment whilst on vacation or working.
Pet-sitting is more than a job; it's a passion that began even in France, when they took care of their relatives' pets. "We bring a special presence to the animal, which has a moment reserved just for him," they say, explaining the advantages of this service for both the animal and its owner who receive messages and photographs to keep them informed their animal's state of mind. And language is no obstacle since, in addition to French, Laura and Romain also speak English and a little Portuguese.
Information:
Instagram: @animauxdeporto
Facebook: Animaux de Porto
Tel: + 351 926 857 199
Tél: +33 631 890 173

(Visited 745 times, 1 visits today)