The University of Porto has been hosting more and more foreign students. Thousands of students come to Porto each year, attracted by a reference educational institution and a welcoming and enchanting city. Some end up staying forever.
Twenty years ago, in the 1988/1989 school year, the first student under the Erasmus + program arrived at the University of Porto. It had only been a year since the program had started all over Europe and since then many young people have chosen Porto to have a more complete academic journey and an unforgettable life experience.
On average, the University of Porto welcomes more than 4,000 international students per year. This academic year is expected to reach the highest number ever, with the arrival of more than 4,500 students from more than 100 countries.
Spain, Italy and Poland are the countries where most students come from to spend a few months in Porto. On the other hand, foreign students who are at the University of Porto to complete a cycle of studies are mostly from Brazil.
According to the European Commission, Portugal is the 7th country with the highest number of students in the 33 countries participating in the Program, behind Spain, Germany, United Kingdom, France, Italy and Poland.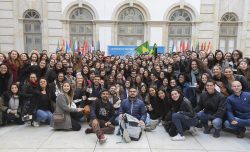 Why Porto?
The quality of teaching at the University of Porto, the beauty of the city, the low cost of living, the cultural offer and the mild climate are some of the reasons that attract students from all over the world to the city of Porto.
The fact that the University has a close link with the companies in the region, the prestige the institution has and the way it supports research and innovation contributes to the University of Porto being in the top 100 in Europe in terms of employability rates.
The hospitality of the people of Porto and the multiculturalism of the school and the city are equally important to attract students from all over the world.

(Visited 673 times, 1 visits today)