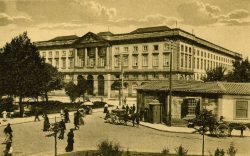 Founded on March 22, 1911, the University of Porto is increasingly sought after by Portuguese and foreign students. With 14 colleges and three hubs (in the center, Asprela and Campo Alegre), it has about 30 thousand students from all over the world.
The origins of the University of Porto are in the Nautical Classroom, created by D. José I in 1762 and designed to prepare sailors and pilots to board ships departing from Barra do Douro to the whole world. Drawing Class followed right after, created in 1779; Royal Academy of the Navy and Commerce, in 1803; Polytechnic Academy in 1837. All these schools were designed to prepare cadres qualified to work in the naval area, in commerce, industry and the arts.
In 1825 the first medical school of Porto, the Royal School of Surgery, was founded, which 11 years later gave rise to the Medical-Surgical School. The Drawing Class was also the origin of other schools linked to the arts.
In March 1911, a few months after the Implantation of the Republic (October 1910), this university was established, which has since continued to grow in terms of courses, number of students and international prestige. Initially divided in two faculties (Sciences and Medicine), it received in 1915 the Technical Faculty (renamed in 1926 of Faculty of Engineering), in 1919 the Faculty of Letters and, in 1921, the Faculty of Pharmacy. The Faculty of Economics was established in 1953.
With the revolution of April 25, 1974, the University of Porto would see great growth, receiving more faculties: Abel Salazar Institute of Biomedical Sciences (1975), Faculty of Sports (1975), Faculty of Psychology and Educational Sciences 1977), Faculty of Architecture (1979), Faculty of Dental Medicine (1989), Faculty of Nutrition and Food Sciences (1992), Faculty of Fine Arts (1992) and Faculty of Law (1994). The Porto Management School was created in 1988 and since 2008 it has been designated as Business School of the University of Porto.
The rectory
It is the headquarters of the University of Porto. Located in the centre of the city, at the Praça Gomes Teixeira, this imposing building also houses the Museum of Natural History and the Science Museum. Between 1803 and 1837 it received the Royal Academy of Navy and Commerce and the Polytechnic Academy of Porto between 1837 and 1911. Installed in the space that housed a college for orphans, this building had a time-consuming construction and was often re-adapted for new functions. On April 20, 1974, a fire destroyed a part of the building, which was again the target of works and renovations. Between 1976 and 1996 the rectory worked in a building near the Palácio de Cristal.

(Visited 841 times, 1 visits today)