A charming historic street is now in fashion
Newly renovated, this is one of the trendiest streets in the city. Restaurants, traditional shops and historic buildings make Rua das Flores a must see for anyone who wants to get to know the true spirit of the city.
It was in the time of D. Manuel that Rua das Flores appeared in 1521. One of the reasons for its name may be because it had many gardens, and so Rua de Santa Catarina das Flores was created. The objective was to connect the Largo de S. Domingos and the Porta de Carros, a door of the Fernandina (from the reign of D. Fernando) wall located at the top of Almeida Garrett Square.
In the following years some aristocrats of the city settled there. The houses, marked with coats of arms and decorated with beautiful balconies, still exist today and constitute beautiful examples of the civil architecture of the 17th, 18th and 19th centuries. Also worthy of mention is the Misericórdia Church, by Nicolau Nasoni, which has one of the most emblematic baroque façades of Porto.
This street is a pedestrian zone and therefore ideal for walking slowly, noting small details such as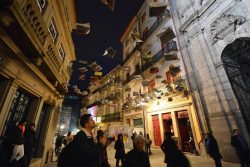 the electricity boxes painted with typical expressions of the Porto residents or the facades and shop windows of traditional shops. In addition to the shopping facilities, there are cafes and restaurants, ideal for a short break.
Curiosities:
Much of the area where the Rua das Flores was opened belonged to the Church and in the older houses it is still possible to see symbols which were attributed to the property of the bishop and the cathedral chapter: the spiked wheel of the martyrdom of Santa Catarina (in the property of the Bishop) or the figure of the archangel S. Miguel (symbol of belonging to the cathedral chapter).
This street was also famous for a crime that occurred in the 19th century: the physician Urbino de Freitas was accused of killing a nephew with poisoned almonds in order to inherit his father-in-law's fortune. The poisoned gifts were delivered to Rua das Flores and were also destined for two other nieces who lived there, but who eventually survived.

(Visited 10,576 times, 10 visits today)