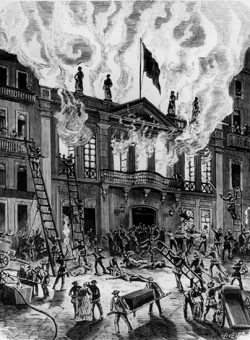 In the Agramonte Cemetery, in the Boavista area, a gigantic ark filled with burnt and twisted irons, reminds us of one of the city's greatest tragedies.
On the night of March 20, 1888, a violent fire completely destroyed the Teatro Baquet, a building with two entrances (Rua de Sá da Bandeira and Rua de Santo António, currently Rua 31 de janeiro). That fateful night, the room was full and on stage comic opera was on. During a change of scenery, one of the cloths touched the flame of gaslight. Due to the materials, the antiquity of the building and the lack of a security plan, fire has spread rapidly and 120 people died in this tragedy.
The fire led to the redress of security in all the rooms of the city and, so that such misfortune was never forgotten, a memorial was made in the Cemetery of Agramonte. The mausoleum, which still intrigues people who do not know this episode of the history of the city, was made with pieces of iron and has on top a large crown of martyrs, also in iron.

(Visited 629 times, 1 visits today)