The author of the blog Viaje Comigo (www.viajecomigo.com), Susana Ribeiro has spent the last few years traveling around the world. But it's to Porto, her home, where she always returns to and, as you will see from her suggestions, a city that never ceases to surprise her.  Get to know her suggestions for an unforgettable day in Porto.
Breakfast
Carvalhido gathers some of the best bakeries in the city of Porto. Nova Real is one of them and it's the perfect place to kick start the day with some breakfast made of fresh bread and baked gods. It is difficult to offer any suggestions, whether savory or sweet, as everything available is delicious – it won't be an easy choice!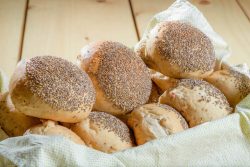 Mid-morning coffee
I don't drink coffee. When I travel, I jokingly get told that I must be the only Portuguese in the world that doesn't drink coffee. However, for a mid-morning tea, I'd say Tavi, in Foz, with its ocean view. And get something sweet on the side to go with it.
Shopping
One might just say window shopping and Rua Miguel Bombarda, where you can find the Centro Comercial Miguel Bombarda, has several different stores and dozens of art galleries to visit. Nearby, you will also find Palácio de Cristal, a perfect place for a stroll, weather permitting.
Lunch
For lunch… a francesinha! That way, you have all day to burn those extra calories.
Rua Passos Manuel has already been named the Francesinhas Street, considering all of the places that serve them… and the delicacy has already spread to the Praça dos Poveiros. Since everyone has a different opinion as to which one is the best, I will leave it up to you… But, if you ask me, the ones from Lado B are very good.
Some shopping
At Rua de Guedes de Azevedo, 123, the Mercado Loft Store is a dream for those who like décor accessories, with some beautiful items and very original gifts.
Dinner
After shopping and a stroll along the main avenue in Foz, your appetite will flare up and you will be ready for dinner. But how to choose?
I suggest Wish (at the Largo Igreja da Foz) with traditional food and Sushi or BH Foz (Avenida do Brasil) – which serves a little of everything and with an ocean view.
Drinks
These days, the nights in downtown Porto are largely spent on the streets. However, when it's cold, I go to Gin House bar: a great environment and peaceful during the week.
Dancing
Recently I discovered the bar Embaixada Lomográfica do Porto (close to praça Carlos Alberto) e Garden's (in Travessa de Cedofeita). Both are great for talking and dancing.
(Visited 357 times, 1 visits today)