In one of the busiest areas of the city, this is a place of tranquility, but also of fun on special occasions.
The Monument to the Heroes of the Peninsular War, placed in the center of the garden, is a point of reference in the city, and can be seen from far. But the garden of Mouzinho de Albuquerque Square, commonly known as "Rotunda da Boavista", has also been a place of leisure for many decades.
The garden, dating back to the early 20th century, was created around the monument, a project by the sculptor Alves de Sousa and the architect Marques da Silva. It is formed by a granite column of 45 meters of height, having at the top a peninsular lion to shoo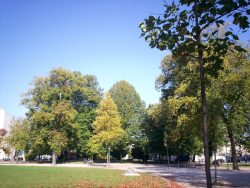 t down a Napoleonic eagle. At the base are sculptures of soldiers.
Even before the construction of the garden, this was a place where fairs were held, but also bullfights or cycle races. A tradition that continues, as the Rotunda da Boavista continues to receive carousels and other entertainment equipment on occasions such as Christmas or São João.
Camellias, liquidambars, and linden trees are some of the species present, but the most prominent are the California centennial palm trees, being of public interest.

(Visited 3,234 times, 1 visits today)