She is 17 years old and the beaches of Porto and Matosinhos are almost a second home for this promising Portuguese surfer and female regional champion in the U-18 category. Her passion for surfing surfaced five years ago and has already led to many national and foreign beaches, but it is in Porto that are some of her favorite places.
The athlete of Porto Surf Club does not hide her passion for the sea and the beaches of Porto, and shares with the readers of Hey Porto some of her suggestions for days well spent in the city.
Bar: Bonaparte, Avenida Brasil
I like the environment. I like it because it is a traditional bar in the area where I have always lived, because there are great "pregos" (pork steaks), and because I go there with family and friends.
Restaurant- Picaba – Edifício Transparente – Healthy food, in front of the ocean and the beach where I started to surf. The employees know us and make us feel at home. It has a Surf menu and because, no matter how many times I go there, I never get tired of it.
Stroll:  seaside walkwayl from the mouth of the Douro River to the Ribeira – walking for me has to be on the shore with the ripples caressing my feet. I am fortunate to live in a unique area of ​​Porto, almost in front of the sea, where I can take this particular stroll very regularly. A walk that is never the same, because the uniqueness of the sea is what makes us always see it differently. There is an unmistakable scent of the sea, and even on foggy and cold days the "whistle" sound (sound coming from the lighthouse to warn the boats on foggy days) makes this tour unique.
Ideal place for surfing: Maceda beach (Ovar, Aveiro)
I love the access through the middle of the forest, dunes and cliffs that constitute the beach. Looks like a dream surf spot!
A secret of the city: Jardim das Virtudes (Garden of Virtues) – has been less known … but remains a place with some magic. I remember the first time I went there and realized the wonderful view that this garden has. A view to our river Douro and, at the same time in the middle of Baixa, with the court and the garden of Cordoaria at the back. I have no doubt that whenever someone goes there for the first time they will be surprised to have one of the most beautiful views of our city.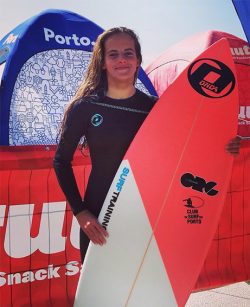 (Visited 355 times, 1 visits today)