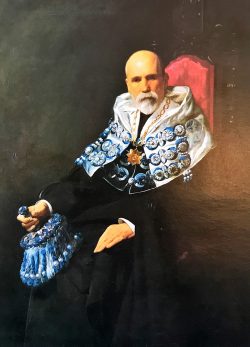 Gomes Teixeira, illustrious mathematician who would become the first rector of the University of Porto, only did not study Theology by mere chance.
Born in January 1851 in Armamar, he was soon distinguished by his intelligence and good grades obtained in all subjects. At that time, it was common for boys with good schooling to be referred to the Seminary, but the young man was also brilliant at Mathematics. Thus, when it was time to go to university, the family decided that it would be the good fortune to decide between Theology and Mathematics.
Luck dictated Mathematics and since he arrived at the University of Coimbra, Francisco Gomes Teixeira stood out by the maximum notes obtained. At the age of 20 he published his first work and in 1874 he finished the course with a grade of 20 values. Such a brilliant academic course would, naturally, have to lead him to a teaching career. He excelled at the University of Coimbra and at the Polytechnic Academy of Porto, which he would eventually direct.
In 1911 the University of Porto was founded and Gomes Teixeira was chosen to be its first rector. He died in Porto in 1933. After his death, three busts were made in bronze, later placed in his native land at the University of Porto and at the University of Coimbra.
Source: O Tripeiro 7ª Série Ano XIX nº1 e 7ª Série Ano XXX, Número 12

(Visited 685 times, 1 visits today)