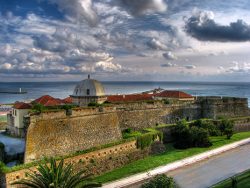 Also known as Castelo de São João da Foz, this fortress was built to protect the city from attacks by pirates and ships from enemy countries.
Built on the right bank of the Barra do Douro, the genesis of this fort was the residence of the bishop of Viseu, developed according to the design of an Italian architect. Considered as the first manifestation of Renaissance architecture in the north of Portugal, this house, as well as the adjacent buildings – such as the Church of São João Baptista and the chapel of São Miguel-o-Anjo – was surrounded by walls in the reign of D. Sebastião (1567). The strategic location, essential for the defence of the city and the region, would justify several interventions made over the years, trying to avoid attacks by pirates and ships from the nations with whom Portugal was at war with throughout its history.
When Portuguese independence was restored after 60 years of Spanish domination (1580-1640), D. João I wanted to know the state of the national fortresses and the need to build them stronger. The French engineer Charles Lassart was sent to Porto to delineate the necessary works in the fort; it was decided to demolish the church and the residence, making the fortress safer. After the works were completed, the presence of troops in the area was reinforced. In the 18th century the fortress was described as having four ramparts and 18 pieces of artillery, but by the end of this century it was concluded that it would be necessary to strengthen security, namely with the completion of the pit and with the construction of two batteries. In 1798, a portal in neoclassical style was also included, with a drawbridge, which replaced the primitive door of arms.
The evolution of the deployment and the capacity of defence caused this fort to lose its importance during the nineteenth century. In the middle of the twentieth century, it was abandoned but ended up being considered a Monument of Public Interest and in the 80's and 90's it was part of a cleaning and consolidation work.
Curiosities:
In the sixteenth, the works were paid with the amount raised by the tax on the salt.
During the Peninsular War (1808-1814), on June 6, 1808, Sergeant Major Raimundo José Pinheiro occupied the premises of the fort. The next morning he had the Portuguese flag flying on his mast. It was the first act of Portuguese reaction against the Napoleonic occupation.
During the Portuguese Civil War (1828-1834), he protected, during the siege of Oporto (1832-1833), the landing of supplies for the liberal troops in the city.
In the nineteenth century it served as political prison.
The poet Florbela Espanca, married to one of the officers, lived in the fort in the early 1920s.
GPS: 41.148445879541, -8.6748862266541
Schedule: From Monday to Friday 9:00 to 17:00

(Visited 1,858 times, 1 visits today)