In Rua de Santa Catarina, in the city
centre, Majestic is a must stop for those
who visit Porto. The privileged location,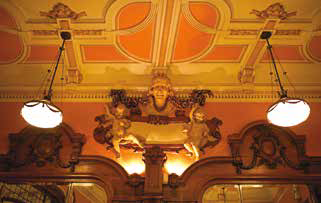 the facade and the decoration make this a
unique venue in the city.
The space was inaugurated on the 17 of December
of 1921, but at that time it was called Elite.
Designed by the architect João Queirós, it functioned
as a kind of private club; with the change of name
to Majestic, it became a meeting point for the high
society, bohemians and intellectuals. Throughout its
history would be place of social gatherings, a point
of passage of artists that visited the city as well as
for statesmen and celebrities.
With the advent of World War II the cafe would enter
a period of decadence, the sale of its very rich estate
going to auction.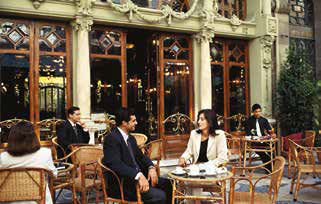 During the restoration carried out in the 1990s,
only wall fixtures, mirrors (from Antwerp) and
sofas were kept. Replicas of some pieces which had
disappeared were made so that the original spirit
could be maintained.
Since the mid-90s the Majestic has won a unique
place in the heart of Porto residents and tourists,
and has also won several international awards.
The space
The Majestic is a superb example of Art Nouveau,
featuring an imponent marble façade with three
elegant porches facing Rua de Santa Catarina. In the
interior, the great mirrors, the metal candelabras the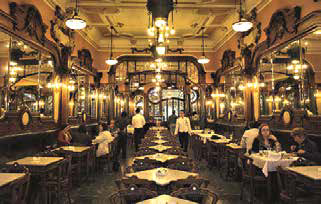 sculptures in stucco stand out.
The interior courtyard, built in 1925, was designed
as a winter garden. There was a time when there
was a window facing Rua de Passos Manuel, where
newspapers and tobacco were sold. In this courtyard
there are concerts during the summer, but all year
round the Majestic is also a cultural space, thanks to
the grand piano and the painting exhibitions on the
lower floor, which was once a billiard room.
Curiosities:
J. K. Rowling was a frequent patron of the
Majestic cafe when she lived in Porto and it is
believed that she started working on the book
"Harry Potter and the Philosopher's Stone"
there.
Former Brazilian President Juscelino Kubitschek
responded as follows when asked what he most
liked about his visit to Portugal: "Well … it was
Majestic … after all I am also a child of God … !!!"

(Visited 901 times, 1 visits today)