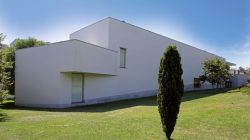 The most renowned Portuguese architect has designed  created homes, museums, schools and even a metro station in the area of ​​greater Porto.
The Casa de Chá/Restaurante da Boa Nova and the Piscina das Marés, both in Leça da Palmeira, are two of the most famous works of this architect. Dating from the 60s, an early stage of his career, both are located in the hometown where he was born. In addition, in Matosinhos, the Monument in honour of the poet António Nobre, the esplanade of Leça da Palmeira or the swimming pool of the Quinta da Conceição are other examples of the work of the Pritzker Prize winner.
In Porto there are also several public spaces designed by Siza Vieira, such as the Faculdade de Arquitetura da Universidade do Porto (Porto Faculty of Architecture), the Museum of Contemporary Art of the Serralves Foundation; projects which were completed in the 90's. Siza Vieira's trait also exists in social housing, such as the San Vittore district or the neighborhood of Bouça, in office buildings and even the tomb of the poet Eugenio Andrade.
Among his most recent works and more visible to the general public are, for example, the renewal of the Avenida dos Aliados and the metro station of Sâo Bento, both located in the city centre.
Siza Vieira is also responsible for the new Chapel Afurada in Vila Nova de Gaia, which will soon be built. Marco de Canaveses, Gondomar and Vila do Conde are also cities with projects created by the architect.

(Visited 362 times, 1 visits today)