More than a building that marks the landscape of downtown, the Coliseum of Porto (Coliseu do Porto) is an example of overcoming difficulties and the way the people of Porto defend their symbols.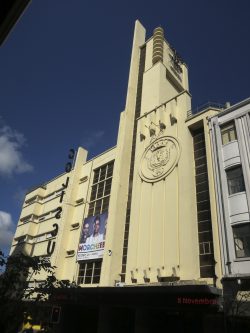 The current building was inaugurated on December 19, 1941, reflecting on a project in which several architects participated and the Modernism that marked the end of the 30's. However, in the place where the Coliseum is today , there was the Jardim Passos Manuel Hall, a place not only for cinema shows, but also for parties, a music hall and painting exhibitions that had been built in the beginning of the 20th century. The success of this concept led the owner to consider enlarging it. In 1938 the Coliseum began to be built, and was inaugurated with a Gala soiree. This inaugural concert was revived during the celebrations of the 50th anniversary.
From its inauguration, until the end of the 60's, the theater received cinema, concerts, operas and circuses. Renowned names like Marcel Marceau and Rudolf Nureyev passed by during that period. In the 70's, the Coliseum also welcomed the Cine-Studio Passos Manuel, a smaller room dedicated to the author's cinema.
There were two of the most striking episodes in the life of the Coliseum in the mid-1990s: in 1995 rumors surfaced that it would be sold to the Universal Church of the Kingdom of God, which led hundreds of people to protest for several days in front of the building. Due to the pressure, the company owner finally agreed to sell the building to the Association of Friends of the Coliseum of Porto, which emerged from this wave of solidarity between artists, cultural agents and anonymous figures.
On September 28 of the following year, and a few hours after the Portugal Fashion shows finished, a tragic event in the Coliseum and the city came about: a fire destroyed the stage, damaging the room and the dressing rooms. Once again, institutions, companies and private individuals united in an exemplary effort, ensuring the reopening of the Coliseum in December of that year, fulfilling, as always, the tradition of receiving the Christmas Circus.
The Coliseum modernized in the late 90's and today remains one of the main stages of the city.

(Visited 765 times, 1 visits today)