The answer to this question is not always easy for those who like to go out dancing and truly enjoy music.
In most places, you always hear the same music, where you'll find the latest radio hits, brazilian music and reggaeton.
But there are still some places, in Porto, where the music makes us travel to other times and makes us remember those moments that were special to us, or even spaces for new musical discoveries and where we can get lost in new sonorities.
To remember, the Batô returned with Noites do Baú (on the last Thursday of each month), where indie rock, which was heard in the 80s and 90s, filled the dance floor once again.
To travel back in time, Griffon's, now in downtown Porto, is back with its matinées, now on Saturdays, which were legendary in the 80s and helped to
sharpen the musical taste of an entire generation that went there.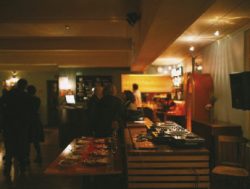 For new discoveries, Maus Hábitos, a reference in the city since its opening in the year when Porto was the European capital of culture and with a programme that focuses on discovering new sounds.
Also, to get lost in the night to the rhythm of new sounds, Plano B, despite being irregular in its programming, presents an alternative of two dance
floors that ensure some memorable nights.
Today, we no longer have an excuse not to go out. We'll dance and travel through time or get lost in rhythms and the discovery of new sounds.

(Visited 424 times, 2 visits today)