Also known as the Palácio da Bandeirinha, the Casa das Sereias (named after the two images that flank the main door) was built in the mid-18th century by the Portocarrero family.
The building, an imposing palace that still distinguishes itself in the landscape of the city, was built on the site of the Cemetery of the Hebrews and the old Jewish quarter. The family, despite its wealth and prestige, did not escape some tragic episodes. The owner of the estate died in a boat accident in the Douro and, since he had no children, the palace passed on to his brother.
In 1809, during the French Invasions, a group of people, convinced that one of the elements of the family was conniving with the French, slaughtered him in the courtyard of the house. The Portocarrero, who in the mean time lost other members of the family in a tragic way, left the palace and did not return. The building was closed until 1995. It was sold to the Institute of the Instituto das Filhas da Caridade who installed a college there that is still in operation.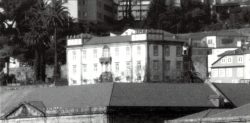 The Tripeiro 7th series Year XXXIII, Number 3 March 2014

(Visited 1,750 times, 2 visits today)