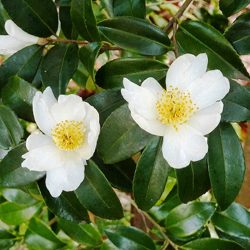 Tea comes from the leaves of the Camellia Sinensis or Chinese rose.
Morphologically the tea plant is a shrub and presents a delicate white flower.
This Camellia species needs acid soils, a warm and humid environment, as in Porto.
For tea production we only collect the young leaves and buds from the crown of the shrub.
We can collect the leaves throughout the year, when new leaves sprout.
Porto has a long and intimate relationship with tea. Their paths crossed somewhere in the 16th century, a Jesuit priest being the first European to come across the tea plant on a mission to China.
It is very possible that the English ships that came to the Douro carrying Port wine on their return trip took with them some camellia plants, perhaps the first to enter that country.
It was probably Catherine of Bragança, married to the English King Charles II, who introduced "5 o'clock tea" to the English court. The love for tea spread throughout the country, and it is a habit that still lasts today.

(Visited 352 times, 1 visits today)