In Portugal, Christmas is always a good excuse to drink, buy or gift someone with Port Wine. Visiting the Port Wine Cellars is the best way to have the best wines, at the table or on the Christmas shopping list.
The diversity is great and each type of Port wine is suitable for specific dishes and specific moments, as it is best way to know this wine well, because only then will you be able to enjoy it in its plenitude.
The best place to learn everything about Port Wine are the cellars, located in Vila Nova de Gaia. It was there that, until the last century, the Rabelo boats, coming from the Douro estates with kegs of wine, were docked and stored. In these enormous warehouses located by the river where light and humidity help the taste, color and texture of the wine can be perfected.
Today, the cellars are must see places for those who visit the city of Porto. In addition to getting to know the complete history of Port Wine and the journey made by the grapes from the Douro to the moment they arrive in your glass, you will also have the opportunity to taste and buy various types of wine.
We highly recommend a visit to the Ferreira cellars and the Sandeman Celllars.
CELLARS
Ferreira
Avenida Ramos Pinto, 70, Vila Nova de Gaia
Hours: 10h00 – 12h30 / 14h00 – 18h00
Classic Visit | Price € 10 pax:
Visit to the Cellars, including the Room of the Belongings of Dona Antónia and the Museum, with two Port Wine tasting.
Visit Dona Antónia | Price € 20 pax:
Visit for small groups, with extensive wine tasting and a selection of 5 Port Wines, in a reserved area.
Visit Casa Ferreirinha | Price € 14 pax:
Visit to the Caves, with three Douro Wines Casa Ferreirinha DOP winetasting, producer of the famous Barca Velha.
Sandeman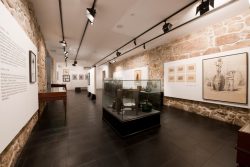 Largo Miguel Bombarda, 3, Vila Nova de Gaia
Opening Hours:
Every day | 09h30 – 12h30 / 14h00 – 17h30
Classic Visit | Price € 10 pax:
Guided tour with wine tasting of two Reserved Porto wines
Visit 1790 | Price € 20 pax:
A guided tour that begins at the Sandeman Museum and ends with a wider winetasting of Port wine at 1790
Visit "100 Years of Old Tawnies" | Price 40 € pax:
A visit to discover the long tradition of Sandeman in the aging and blend of Port Wines. At the end of your visit, a comprehensive winetasting of a century of Tawnies – tasting of 10, 20, 30 and 40 years – in a reserved and intimate area that also houses the Sandeman Antique Bottles Collection.
Visit Premium | Price 13 € pax:
A guided tour of the Sandeman Cellars, with winetasting of three superior wines (White, Ruby and Tawny).
Points of interest:
Sandeman bottle collection – more than 60 samples of handmade English bottles from the 17th and 18th centuries.

(Visited 720 times, 1 visits today)