Tiago Pinto Leite is a 50-year-old entrepreneur with a 30-year curriculum in catering, bars and nightclubs. Opened spaces such as Voice Club, Twins foz, River Café, Chic and Stox Club. Having collaborated in the creation of Industria Club, Estado Novo, Praia da Luz and Cais 447 and many more..
The city is today fertile ground for a night out .  In the center of Porto,there now exists a more diverse and vaster choice, vertualy door to door that grows in size from year to year. Here is my suggestion for an unforgettable evening.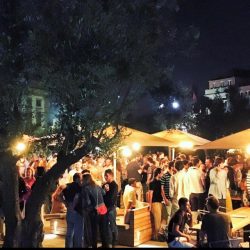 If you have a late dinner reservation and would li9ke to enjoy a drink  before dinner, I advise you to start at the BASE. Overlooking the Clérigos Tower,  a space with gardens and terraces. Great atmosphere during the summer months.
Then dine. And here are two suggestions not too far from each other. The FLOW of Mediterranean cuisine with a beautiful and exotic decoration, with a beautiful outside patio, known for its cosmopolitan atmosphere and wonderful food. Or the GOOD BAO, Thai food and great cocktails. Its decoration transports us to an oriental environment and known for its friendly service.. As they do not accept reservations, it is advisable to go early.
After dinner nothing like going to the Vogue Café, door to door with the beautiful Hotel Infante Sagres, a space full of charm, decorated by the respected decorator Paulo lobo.
To get in step for the night my suggestion is the HOUSE OF THE BOOK. One of the oldest bars in downtown Porto,  beautiful and cozy decoration. With a great atmosphere and live music most nights and Dj´s at the weekends. If you prefer Jazz or Blues my suggestion is the HOT FIVE JAZZ AND BLUES CLUB.
And to end  in great style go to  the Disco PLANO B – A space with a far-out deco, with two floors, two distinct areas with DJs, one more pop / rock / funky and  the for electronic music lovers. There are great names in Portuguese and international electronic music. It is perhaps the most frequented space by tourists!
At nights end grab a snack at one of  the many outdoor food stands, Have fun in the city and  remember that there is always more to discover.
(Visited 674 times, 1 visits today)