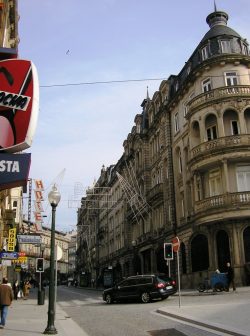 From the little farms and alleys a cosmopolitan street was born.
Today it is one of the most central and busiest streets of Porto, but it was a place formerly occupied by agricultural land, alleys and even stalls.
The name of the street itself has a curious story: Bernardo Sá Nogueira de Figueiredo was a marshal loyal to the Liberals troops. During the Siege of Porto, in the war between Liberals and Absolutists, the arm that carried the liberal flag was severed by the enemy. It would be known as Sá da Bandeira. Later he took up important political positions, even becoming a minister. He was also distinguished with the titles of Baron, Viscount and Marquis.
Rua Sá da Bandeira only appeared in the 19th century: until then, it was still an area with small  farms and farmland, many of them belonging to D. Antónia Adelaide Ferreira (A Ferreirinha), one of the most important names in the history of Port Wine. The area also had small alleys, which were almost completely demolished.
The street began to be constructed in 1836, but the first houses would only appear seven years later. In 1875 it was extended to Rua Formosa and the continuation until Rua de Fernandes Tomás (1904) which forced the demolition of the stables where the horses, which pulled the public transport, were at the time. Later, the street would be extended to the South and later to the North, until it gained its present form.
Points of interest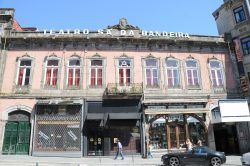 Sá da Bandeira Theater
It opened in 1870, but earlier there had been more rudimentary structures for spectacles. It was here that in 1895, Sarah Bernhardt performed, and it was also here that the first films which were made in Portugal were shown. It is said to have been the first theater in Porto to use electric lighting.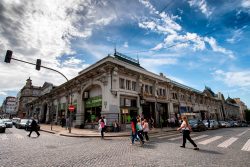 Bolhão Market
O mercado mais tradicional da cidade foi construído em cima de uma bolha de água (daí o seu nome). Datado de 1850, é um belo exemplo da arquitetura neoclássica, mas é o seu interior, onde a alma Porto está mais presente. Os produtos frescos, a simpatia dos vendedores e a frescura dos produtos tradicionais portugueses merecem uma visita.
Palácio do Comércio
A residential building, with commerce and offices, which surprises by its magnificence. It is worth beholding the sculptures of horses that are at the top, as well as all its architecture. It was built in the 1940s by the couple of architects David Moreira da Silva and Maria José Marques da Silva, daughter of José Marques da Silva, one of the most important architects of the city.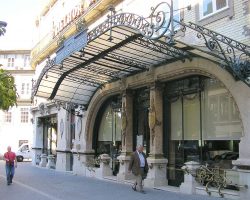 A Brasileira Café
It is currently under construction to become a hotel, but this is a building with history. In 1903, Adriano Teles, who had been an emigrant in Brazil, opened this cafe to make known his own brand of coffee. During the decades of 50 and 60 was habitual place of get-togethers and gatherings.

(Visited 2,137 times, 1 visits today)