POINT 1: CAPELA FAROL S.MIGUEL O ANJO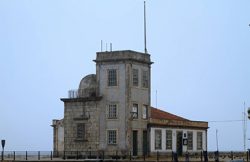 The Lighthouse-Chapel of São Miguel-O-Anjo was the first lighthouse built from scratch in Portugal and one of the first in the world. It was built in 1527 in the area of ​​the Cantareira, by order of D.Miguel da Silva – King's ambassador to the Pope, Bishop of Viseu and Abbot Commander of the Monastery of Santo Tirso.
The influences brought and lived from his stay in Italy inspired the construction of what is considered the first Portuguese renaissance building. Like the Pantheon in Rome, the lighthouse chapel features a centralized plan where the sacred area lies at the center of the space. Originally, the lighthouse was embedded in the cliffs of the river Douro but in the late nineteenth century it was surrounded by the construction of the new jetty.
Although it is currently closed to the public due to its poor state of conservation, it is worth visiting this monument and its context. To see in the background the sea line, to imagine all the traffic that has passed through it for all these centuries and to read closely the inscription on the stone wall that is resisting the erosion of the times.
The lighthouse now awaits restoration works that will include an exhibition of the history of the monument.
POINT 2: MIRADOURO DE SANTA CATARINA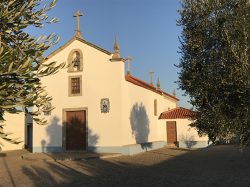 The viewpoint of Santa Catarina is, simultaneously, the width of the Chapel of Santa Catarina and Senhora dos Anjos, high in the parish of Lordelo do Ouro. The wide, welcoming area is surrounded by a stone wall that protects us from the cliff and invites us to approach.
Here we are invaded by the wide view of the estuary of the river Douro. Within reach is great part of the south bank of the Douro, the garden of the Calém, the bridge of Arrábida, the green Park of the Pasteleira and the house to the sea. As we look over the wall we can contemplate the topography that descends on terraces or peer into the courtyards and gardens of the neighboring families.
The square has recently been renovated and the chapel is also in good condition. In the stripped white façade, the tile figures of Santa Catarina and Senhora dos Anjos stand out. The chapel opens on Saturdays to celebrate Mass at 5pm. The late afternoon visit allows you to admire the beautiful sunset.

(Visited 348 times, 1 visits today)