One of the most important and popular city landmarks of the Invincible City, is the Luiz I bridge.
It connects the Ribeira do Porto to the quay of Vila Nova de Gaia, and all locals know it, and probably most have had the privilege of crossing it on the upper or lower board.
In 1879, they began to think about the replacement of the Pênsil Bridge, which in conclusion they discovered was not as efficient for the traffic that was growing between Porto and Gaia, and in 1881 it starts but only 5 years later it was inaugurated.
The bridge had two inauguration moments: the upper level was inaugurated on 31 October 1886, on King D. Luiz's birthday; and the lower level was only inaugurated one year later.
The author of the bridge was Théophile Sevrig, a disciple of Gustav Eiffel, and not the author of the Eiffel Tower himself as many people think.
Between 1886 and 1944 anyone wanting to cross the bridge had to pay a toll, and this amount was paid per person.
Road traffic on the upper level was only prohibited since 2003, the year in which it was adapted to the metro.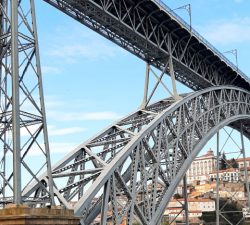 This bridge innovated at the time by having two platforms that took into account the two different elevations of the cities. The upper level is 395 metres long, and the lower level 174 metres.
This masterpiece, was the bridge with the longest wrought iron arch in the world, for many years – 172m. Only in 2017 was it surpassed by a Chinese bridge.
In December 2019, the Luiz I Bridge was considered one of the 15 most beautiful bridges in Europe by European Best Destinations, a European consumer and expert organisation promoting tourism and culture in Europe, based in Brussels.
Did you Know?
The name of the bridge is a tribute to the King Dom Luiz I, married to Maria Pia, who had already given the name to the railway bridge.
The people of Porto brought forward the inauguration ceremony to coincide with the King's birthday, but the story tells that the King didn't appear, which offended Porto's population, who removed the royal title from the bridge, naming it just "Luiz I".

(Visited 331 times, 1 visits today)