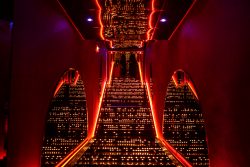 Pérola Negra regains the spirit of the 80s and 90s nights in a space that has an aesthetic "retro", burlesque and where fun is guaranteed.
It is one of the latest nightlife venues in the city of Porto. Pérola Negra, which for more than 40 years served as a nightclub for male audiences, and has maintained the decoration where dark wood predominates, the walls with mirrors and red-lined benches around a dance floor with stage and crystal ball.
Today it is a place of diversion for several generations, located downtown and, therefore, ideal for a well-spent night. In addition to this new concept of "a space for everyone", Pérola Negra also focuses on recovering the spirit of the nights of the 80's and 90's, when the night began with the opening of the dance floor, with smoke effects and a specific song. Then, as the hours pass, the music changes to more recent songs and the dance floor is overrun with the latest dance music hits.
Rua de Gonçalo Cristóvão 284, Porto
Information / Booking  tel:-935200913
(Visited 1,184 times, 1 visits today)