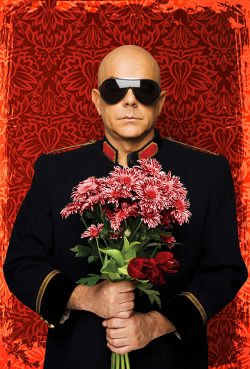 He is one of the greatest names of Portuguese music. It was with the album "Viagens" in 1994,that he was made known to the general public, having won the success and affection of many who maintained it until today through a total of 7 original works.
That first record featuring Maceo Parker, James Brown's saxophone player, was followed by "Tempo" (1996), "Silêncio" (1999), "Momento" (2002), "Luz" (2007), "Longe" (2010) and "Contramão" (2013). In the first 5 studio albums, he was accompanied by the band Bandemónio; in the last 2, by the Comité Caviar. All the songs were written and composed by him.
He is Pedro Abrunhosa. He was born in 1960, started in classical music studies, was a teacher (from the age of 16) and bass guitarist of Jazz having founded the Escola de Jazz do Porto (Oporto Jazz School) and his own Orchestra. He is known for always wearing his sunglasses but mainly for many successes in the last 25 years of Portuguese music, such as "Tudo o que eu te dou", "Momento", "Se eu fosse um dia o teu olhar" – song composed for the soundtrack of the film "Adam and Eve" by Joaquim Leitão – "Toma conta de mim" or "Fazer o que ainda não foi feito". His songs are interpreted in Brazil by names like Caetano Veloso (who invited him to present a show together at Expo98), Maria Bethânia, among many others. He also composed for other musicians, like Ana Moura, Carlos do Carmo or Camané. In 2004 he was one of the artists who closed Rock in Rio which was held for the first time in Lisbon. In addition to the 7 studio albums, he released two DVD's: "Intimidade" in 2005 and "Coliseu" in 2011.
In addition to being a songwriter, Pedro Abrunhosa has appeared opposite Chiara Mastroianni in Manoel de Oliveira's "A Carta", 1999, and is a regular chronicler in various media outlets. In 2005 he founded the BoomStudios, recording studios for himself and for other national and international music names. He won several awards: 3 Golden Globes, the Bordallo Press Prize, the SPA Prize – Pedro Osório, 4 Blitz Awards, and many others.
In 2016, Pedro Abrunhosa was the author responsible for the song of support for the National Football Team at Euro2016 in France, with an adaptation of the song "Tudo que te dou".
But Pedro Abrunhosa is also a man of causes. And if today the city vibrates with the cultural programming of the Coliseum, it is surely in the memory of the Porto residents the image of Pedro Abrunhosa handcuffed at the doors symbolizing the opposition of the city to the sale of the space. For this reason and for everything else, Pedro is a man from the city of Porto and Porto is the city of Pedro Abrunhosa.
(Visited 732 times, 1 visits today)