Up until the end of the 19th century, animal-drawn carriages were the most common transport. The first tram came to Germany in 1879. In September 1895, it would be Porto's turn.
Porto developed quite a lot during the nineteenth century and in the last decade of that century it became increasingly necessary to find an economic means of transport that would allow the city to expand at a faster rate. The hypothesis of using elevators in steeper streets was considered, but the option ended up falling on the tram. Porto then became the first city of the Iberian Peninsula to receive the tram. The first line was inaugurated in 1895, connecting Carmo to Arrábida, and later Foz and Matosinhos. The arrival of buses and the increase in the number of cars have led to a reduction in the number of lines and passengers.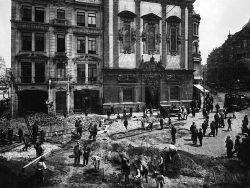 There are currently three lines in operation:
Line 1 makes the connection between the historic center and Jardim do Passeio Alegre, along the banks of the Douro River;
Line 18 – Connects Massarelos ao Carmo;
Line 22 – circular route between Carmo and Batalha / Guindais.

(Visited 497 times, 1 visits today)