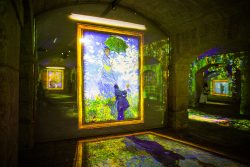 Immersivus Gallery is the first gallery for immersive arts experiences in Portugal and aims to be a national artistic reference in the field.
Impressive Monet is a reinterpretation of the paintings from the founding father of Impressionism, showing the journey beyond the frame through the artist's endless search for capturing light.
The audience will be immersed in the artist's impressionism movement and will feel entailed by the lines and colors that are part of Monet's world.
Brilliant Klimt's show traces the biographical path and the artistic legacy of the Austrian artist through his iconic painting – The Kiss. This will be the main thread of the journey while exploring the influences of Klimt's world.
Impressive Monet & Brilliant Klimt
21.08.2020 – 15.11.2020
Alfândega do Porto
Bilhetes / Tickets / Billetes – 9€
(Visited 652 times, 1 visits today)