Café Majestic is perhaps his most emblematic work. João Queiroz always worked alone in a small workshop in the Baixa do Porto, and helped define the aesthetics of one of the most famed areas of the city.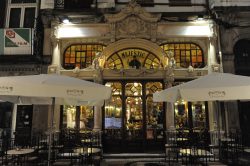 He was born in Porto in 1892, and lived all of his youth in a house in Rua de Santa Catarina in front of where Café Majestic currently stands. At the time, those grounds were filled with mulberry trees which were essential for the production of silk. They would come to be occupied by buildings that would become essential to the story of the city, many of them with the architect's mark.
He did his Preparatory Course of Drawing at the Escola de Belas Artes do Porto and, in 1926, after having worked at the General Board of Buildings and Monuments of the North, received his architect diploma. He would go back to studying at age 52, enrolling in the course of Urbanology which had been created that same year. As his academic and professional lives were influenced by two world wars, he also developed a strong military career and getting to the position of Captain. He was, in fact, known as Capitão (Captain) Queiroz.
His first project was of a rationalist building he created for his father, located at the Rua de Santa Catarina, in Porto. It was there where he established the workshop he always worked from.
His most famed building was unquestionably the Café Majestic, which was initially called Café Elite. When the owners of the café decided to create a window in the back for the sale of newspapers, they resorted to the architect's services once again. Both the Cine Teatro Olímpia and the Cinema Trindade are likewise his creations; he was also the author of a project for the Coliseu do Porto which ended not being carried out.
Amongst his creations were also private housing and stores. One of the most innovative ones, number 54 at Rua de Santa Catarina, had a circular window display which at the time did not please the most conservative critics. As for housing, number 65 at Rua António Aroso and number 315 at Rua António Patrício are the most conspicuous.
He died at the age of 90, on the 25th February 1982.
(Visited 806 times, 1 visits today)