Porto was the main theme of his paintings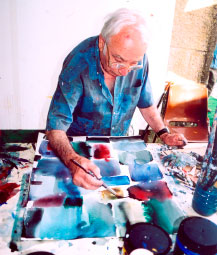 Born on March 21, 1924, he studied drawing and painting at the Soares dos Reis School, in Porto, and his first individual exhibition in 1945, in the city of Porto, in the then designated Salão Fantasia (on Rua 31 de Janeiro).
Porto was the main theme of his paintings, mainly watercolors.
In parallel with his career as a painter, he maintained a wide range of activities as a cultural animator, gallery owner and teacher, being connected to important moments in the visual arts in the city of Porto and in the country. He promoted the International Art Encounters in the 1970s and edited the Revista de Artes Plástica, which counted on the collaboration of important Portuguese critics and artists, showing a particular interest in the realization of innovative cultural projects.
In 1978, he founded the Vila Nova de Cerveira Art Biennial, in Alto Minho, which would become the main art biennial in the country. In the last years of his life, Jaime Isidoro was also linked to the biennial, being chairman of the general assembly table of the Cultural Development Core Project, which organizes the Cerveira initiative.
He received the Armando Basto (1954), António Carneiro (1955), Henrique Pousão (1957) awards. He was also distinguished with the Medal of Cultural Merit of the Chamber of Cerveira (1982) and with the gold medals of the Chambers of Porto, in 1988, and of Gaia, in 2002. He is represented in public and private collections, among which: Museum do Chiado; Machado de Castro Museum among others. In 2006 he presented an anthological exhibition of his work at Casa-Museu Teixeira Lopes, in Vila Nova de Gaia
On June 10, 2006, he was made Grand Officer of the Order of Merit.

(Visited 393 times, 1 visits today)