Close to the Douro and in the middle of the historical area, this church with a richly decorated interior is a sign of devotion from the fishermen to São Pedro.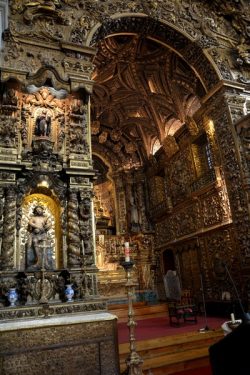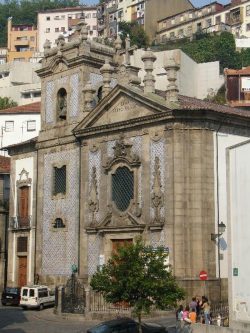 The current church, rebuilt in the eighteenth century, emerged in the place where there was previously another temple of medieval origin. Miragaia, along the Douro River, was one of the first inhabited zones in the city. Born in the heart of a devout fishing community, this church was dedicated to São Pedro, patron saint of fishermen.
The previous temple gave place, in 1740, to a temple with a simple structure and with a unique ship. However, the richness of the interior decoration compensates for this stripping. The chancel is fully lined with gilded carving. A work that lasted for several years and that made this decoration reflect the evolution of the aesthetics of different periods. The ceiling and the triptych in the Chapel of the Holy Spirit, attributed to the Flemish painter Van Orley, also deserve a close look. In the exterior, the simple tiles – placed in the 19th century – stand out on the façade and the bell tower and the baroque ornaments on the lateral pilasters.
Largo de S. Pedro de Miragaia, Porto
Visiting hours: Tue-Fri 3:30 p.m. to 7:00 p.m. Sun. 10:00 p.m. to 11:30 p.m. Closed: Monday
(Visited 999 times, 1 visits today)