Church of S.Lourenço also known as The Church of the Crickets, a visit not to be missed, with a panoramic view of the river Douro, Invicta and the Margin of Gaia
A walking tour through the city center to the Porto Cathedral is a common itinerary for tourists visiting this proud unconquered city. Discovering downtown is an adventure. As we walk through the narrow streets of the ancient city we discover its secrets and its curiosities.
Today we invite the tourist to venture into Bairro da Sé. The imposing Sé is the starting point of our adventure. Just a few meters away, in an alley that seems to have no exit we encounter the Church of S. Lourenço, better known as the Church of the Grilos, which, together with the Homonymous College, is classified as a National Monument.
It began to be built by the Jesuits in the sixteenth century and was only completed in the eighteenth century. If most of the churches have a wealth and opulence often exaggerated, the Church of the Crickets surprises by its simple, bare and unadorned walls.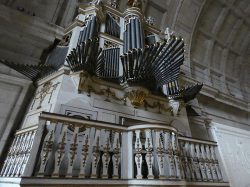 In the Church stand out the beautiful altar of Our Lady of Purification, the fantastic organ with 1500 tubes that, according to  records was built at the end of the century. XVIII and the crib, a unique construction, dating from the XVIII century and whose authorship is attributed to Machado de Castro. At Christmas time, along with the tradition of many other churches in the city, it is possible to appreciate this very rare crib composed of large dozens of figures placed right at the entrance of the monument.
The Church of the Crickets, although correctly denominated by Church of S. Lourenço, was initially the Church and the College of the Jesuits. With the extinction and expulsion of the Jesuits by the Marquis of Pombal in the eighteenth century, the Church was donated to the University of Coimbra and later bought by the Barefoot Friars of St. Augustine who, due to having their main residence in Lisbon, were commonly known as The Cricket Fathers. And hence the Church became commonly known as the Church of the Crickets although they no longer reside there.
The Museum of Sacred Art and Archeology of Porto – with access by a contiguous door to the left of the Church – displays a collection of interesting pieces from the statuary of saints, religious jewelery and other liturgical pieces. It is also here in the Museum that, from the magnificent balcony, one can have an unparalleled view of Porto and Gaia and the Douro River. A breathtaking view you can not miss!

(Visited 842 times, 1 visits today)