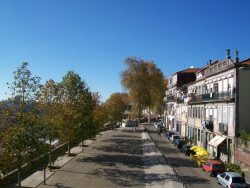 Highly sought after during the São João celebrations, the area of ​​the Fontainhas has a special charm at any time of the year thanks to its the magnificent landscape view.
This wide alameda, very close to the Ponte do Infante, is a privileged place to see the landscape of the Douro, Vila Nova de Gaia and a part of the city of Porto. From here you can also see four of the six bridges of the city of Porto: Ponte Luís I, Ponte do Infante, Ponte Maria Pia and Ponte de São João.
The trees and stone benches make this the perfect place to enjoy the shade on the hottest days or to watch the sunset.
If you want to venture out, you can go down the steep Rua da Corticeira towards the Douro River. On the way, you will find traces of an old chapel and a ceramic factory. For centuries, women who climbed the slope carrying heavy bales of carqueja (a plant that was later used in the furnaces of the downtown bakeries) walked on this sidewalk.
This is, still today, one of the most distinctive areas of the city and a place where strong bonds of friendship remain.
GPS:  41.14251570487, -8.6002564430237

(Visited 2,024 times, 1 visits today)