On the 10th to the 25th of March, Espinho welcomes the international competitions of the World Surf League, Surf and Longboard. An event with a vast entertainment program for all ages.
International surfing and longboarding competitions are the main focus on these days, but whoever is in Espinho will not just stay on the beach watching the performance of the best surfers. In addition to a surf film show, there will also be photography workshops, exhibitions, surf baptisms, adapted surf classes, fitness classes, workshops related to the manufacture and shape of surfboards, etc. The ESD KIDS Zone is a new area of ​​the event, aimed for the younger crowds.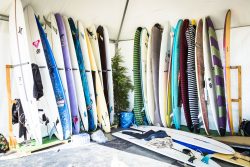 The competitive component is very intense and occupies almost the entire month: on 10th and 11th March, the North Surf Circuit takes place; from March 16th to 18th the attenton will be on the World Longboard Championship – Longboard World Tour by World Surf League. Between the 21st and 25th March the Pro Junior European – WSL-World Surfing League will be taking place.
The Espinho Surf Destination 2018 is already in its fifth edition but, the big news this year, is the integration of the Longboard World Championship, male and female, which will bring the best athletes in the world to Espinho.
Espinho is a beach and surf city which has the best waves in the north and one of the best surf waves of international level. The heart of the city is next to the beach where the event takes place.
(Visited 383 times, 1 visits today)