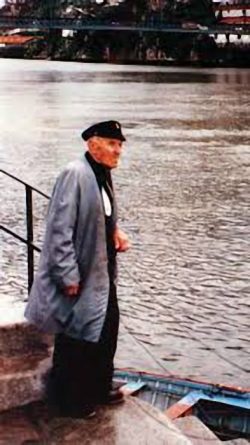 If you stroll through the Ribeira area, which you will have to do if you come to Porto, it is very likely that you will cross the statue in honor of Deocleciano Monteiro (exact location is at Rua Cimo
do Muro, 12, next to Ponte D . Luís).
If the name tells you absolutely nothing, don't worry! The same will happen to most people from Porto! But almost everyone will be able to tell you who the "Duque da Ribeira" was, a name by which he has always been and become known. In fact, it is the tradition that it was the mother herself who, in view of the difficulty in pronouncing the name Deocleciano, treated him as "Duke".
Born in Porto on March 24, 1902 and died on November 9, 1996, the Duke was born and always lived in Ribeira, until his death, being an inseparable and absolutely charismatic figure throughout the twentieth century.
At only 11 years old, he saved a person from drowning in the river. Since then, this heroic brand has never left him, despite his modesty and extreme humility.
The Duke grew up in the river, where all his life there was a boatman. He knew the Douro, its waters, its currents, its life, like no one else! This, coupled with his courage and physical agility and the fact that he is an excellent swimmer, has allowed him throughout his life to save many people from drowning in the sometimes treacherous waters of the river and in other cases from rescue the bodies of those who lost their lives there. Hundreds of people owe their lives – literally – to Duque da Ribeira!
He was also responsible for teaching many children from Ribeira to swim!
Docker, sailor and even actor !, the Duke's popularity was immense, and it is no wonder that his autograph book contains the signatures of several presidents of the republic and even Queen Elizabeth II of England!
For all this, and finally, a warning: if you venture into the waters of the Douro, do so carefully! We no longer have our Duke guarding the river! He who, according to Mestre José Rodrigues' bust that would forever perpetuate on the banks of the Douro his memory and the tribute of the city, was "symbol and meaning, witness and protagonist of Ribeira life".

(Visited 750 times, 1 visits today)