Almost two thousand years ago, Saint Bartholomew died skinned in Turkey andnowadays he inspires a curious festivitycelebrated anually, in August, in the city of Porto.
The celebrations of Saint Bartholomew are one of the most anticipated events in the city, with gastronomic activites, animation and musical shows guaranteed until the beggining of September.
The tradition dates back to the 16th century, when local populations used to bath in the expectation of curing diseases such as stuttering, gout or epilepsy.
Oficially, the celebrations of Saint Bartholomew exist since the 19th century.
The festivities in honour of Saint Bartholomew have as a high point the Court of the Paper Costume. With a lot of work and months of preparation, colored paper sheets turn into authentic costumes and props that fill the streets of Porto with colour and happiness.
The parade finishes, as usual, with a dip in the waters of the Atlantic. The tradition dictates that the rictual "holy bath" should always include seven dives.
Only then will the participants be able to thank Saint Bartholomew for his favors and expect ample healing and protection benefits provided by the saint for the following year.
The parade will take place on the 25th of August and the theme of the Union of Parishes of Aldoar, Foz do Douro e Nevogilde will be a tribute to Sophiade Mello Breyner Andresen in her Centenary.
This is one of the most original events in the city and in the country, and a unique tradition in the world that, year after year, attracts a growing number of participants, both national and international.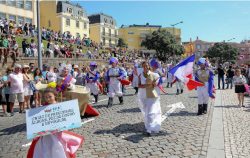 (Visited 1,137 times, 1 visits today)