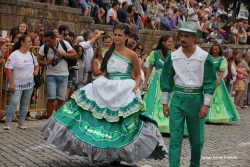 From mid-June to mid-September, the União de Freguesias (Union of Parishes) of Aldoar, Foz do Douro and Nevogilde, host the São Bartolomeu parties – a group of activities that liven up the streets and unite populations and visitors.
The procession of the Paper Costume is admittedly the most awaited moment of the festivities, with a history that has already surpassed 100 years and that in the last decade has gained special notoriety in the city.
These are months of work and preparation, with a permanent focus on roots, history and stories of the region. The 2nd French Invasion of 1809 and the Liberation of the City of Porto is the theme for the Paper Costume Contest in 2018, which will take place on August 26. There are meters and meters of paper, surgically worked by dedicated hands that keep this festive moment in the city alive.
This year's edition has 350 extras, from gatherings and associations of the União de Freguesias, who will join the remaining hundreds who visit Foz do Douro to live this unique experience.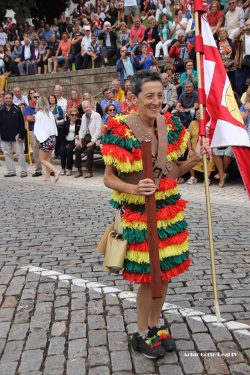 The current format is now 75 years old and integrates a route that seeks to reach the main centers of the history of Foz do Douro. The costumes parade begins at 10:30 am and goes through the Cantareira, rich in its fishing tradition.
After the inevitable passage through the charismatic Jardim do Passeio Alegre, a favourite amongst many intellectuals who fill the culture of Foz do Douro and Oporto, the procession continues to Ourigo Beach where the sea baths take place, one of the most noticeable traditions at the São Bartolomeu parties.
These baths are filled with tradition and folktales. Also known as "holy baths", these dives in the waters of the Atlantic – seven, as tradition says – are a way of thanking São Bartolomeu's favors in the last year and for banishing malaria over the next twelve months.
The participants of this year's edition come from Bloco da União de Freguesias de Aldoar, Foz do Douro e Nevogilde, Associação de Moradores do Bairro Social da Pasteleira – Previdência, Associação de Moradores do Bairro Social de Aldoar and Orfeão da Foz do Douro.
People from all different backgrounds and spaces join in this tradition, showing that the city is made of all and with all even in the most popular of its traditions.

(Visited 1,147 times, 1 visits today)